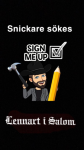 Snickare byggnadsarbetare
Occupation:
Träarbetare/Snickare
Employer:
Lennart i Salom AB
Workplace location:
Östersund
,
Jämtlands län
,
Sverige
Last application date:
2022-09-03
Publication date:
2022-07-03
Prerequisites
Work experiences: Träarbetare/Snickare;
Languages: Svenska;
This opening in English: Click here to read this opening in English and other languages
Presentation:
Ta chansen pröva på något nytt. Vi söker personal som kan börja omgående.
Lennart i Salom AB växer och behöver anställa fler yrkeskunniga medarbetare.
Vi behöver förstärka företaget för att klara av den fortsatta höga efterfrågan och säkerhetsställa en fortsatt hög kvalitet. Vårt motto är "Kunden i fokus"
Vi söker dig som har bra erfarenhet från nybyggnation och bred kunskap inom renovering, ombyggnad och tillbyggnad.
Som person ska du vara glad, positiv och ha lätt för att anpassa dig.
Du kommer att jobba tillsammans med flera av våra arbetare så god samarbetsförmåga kommer att vara ett måste.
*B-körkort
*Yrkesbevis/minst 5års erfarenhet
Vi har kollektivavtal och blivit nominerade till Årets hantverkare 3år i rad.
Record metadata
Click to view metadata

	
    id: 26286964
    external_id: null
    webpage_url: https://arbetsformedlingen.se/platsbanken/annonser/26286964
    logo_url: https://www.arbetsformedlingen.se/rest/arbetsgivare/rest/af/v3/arbetsplatser/87789542/logotyper/logo.png
    headline: Snickare byggnadsarbetare
    application_deadline: 2022-09-03T23:59:59
    number_of_vacancies: 3
    description: 
        text: Ta chansen pröva på något nytt. Vi söker personal som kan börja omgående.\n\n\nLennart i Salom AB växer och behöver anställa fler yrkeskunniga medarbetare.\nVi behöver förstärka företaget för att klara av den fortsatta höga efterfrågan och säkerhetsställa en fortsatt hög kvalitet. Vårt motto är \Kunden i fokus\\n\n\nVi söker dig som har bra erfarenhet från nybyggnation och bred kunskap inom renovering ombyggnad och tillbyggnad.\n\n\nSom person ska du vara glad positiv och ha lätt för att anpassa dig.\nDu kommer att jobba tillsammans med flera av våra arbetare så god samarbetsförmåga kommer att vara ett måste.\n\n\n*B-körkort\n*Yrkesbevis/minst 5års erfarenhet\n\n\nVi har kollektivavtal och blivit nominerade till Årets hantverkare 3år i rad.
        text_formatted: <p> Ta chansen pröva på något nytt. Vi söker personal som kan börja omgående.</p><p><br></p><p>Lennart i Salom AB växer och behöver anställa fler yrkeskunniga medarbetare.</p><p>Vi behöver förstärka företaget för att klara av den fortsatta höga efterfrågan och säkerhetsställa en fortsatt hög kvalitet. Vårt motto är \Kunden i fokus\</p><p><br></p><p>Vi söker dig som har bra erfarenhet från nybyggnation och bred kunskap inom renovering ombyggnad och tillbyggnad.</p><p><br></p><p>Som person ska du vara glad positiv och ha lätt för att anpassa dig.</p><p>Du kommer att jobba tillsammans med flera av våra arbetare så god samarbetsförmåga kommer att vara ett måste.</p><p><br></p><p>*B-körkort</p><p>*Yrkesbevis/minst 5års erfarenhet</p><p><br></p><p>Vi har kollektivavtal och blivit nominerade till Årets hantverkare 3år i rad.</p>
        company_information: null
        needs: null
        requirements: null
        conditions: null
    employment_type: 
        concept_id: PFZr_Syz_cUq
        label: Vanlig anställning
        legacy_ams_taxonomy_id: 1
    salary_type: 
        concept_id: oG8G_9cW_nRf
        label: Fast månads- vecko- eller timlön
        legacy_ams_taxonomy_id: 1
    salary_description: null
    duration: 
        concept_id: a7uU_j21_mkL
        label: Tills vidare
        legacy_ams_taxonomy_id: 1
    working_hours_type: 
        concept_id: 6YE1_gAC_R2G
        label: Heltid
        legacy_ams_taxonomy_id: 1
    scope_of_work: 
        min: 0
        max: 100
    access: null
    employer: 
        phone_number: null
        email: null
        url: www.lennartisalom.se
        organization_number: 5590003066
        name: Lennart i Salom AB
        workplace: Lennart i Salom AB
    application_details: 
        information: null
        reference: null
        email: Info@lennartisalom.se
        via_af: false
        url: null
        other: null
    experience_required: true
    access_to_own_car: false
    driving_license_required: true
    driving_license: 
            legacy_ams_taxonomy_id: 3
            concept_id: VTK8_WRx_GcM
            label: B
    occupation: 
        concept_id: 4Z7F_oBG_vMG
        label: Träarbetare/Snickare
        legacy_ams_taxonomy_id: 6581
    occupation_group: 
        concept_id: 9mJN_VwW_Xjg
        label: Träarbetare snickare m.fl.
        legacy_ams_taxonomy_id: 7111
    occupation_field: 
        concept_id: j7Cq_ZJe_GkT
        label: Bygg och anläggning
        legacy_ams_taxonomy_id: 2
    workplace_address: 
        municipality: Östersund
        municipality_code: 2380
        municipality_concept_id: Vt7P_856_WZS
        region: Jämtlands län
        region_code: 23
        region_concept_id: 65Ms_7r1_RTG
        country: Sverige
        country_code: 199
        country_concept_id: i46j_HmG_v64
        street_address: Jämtland
        postcode: 83148
        city: Östersund
        coordinates: 
            14.6818367466218706596237097983248531818389892578125
            63.16916073700979694649504381231963634490966796875
    must_have: 
        skills: 
        languages: 
                legacy_ams_taxonomy_id: 502
                concept_id: zSLA_vw2_FXN
                weight: 10
                label: Svenska
        work_experiences: 
                legacy_ams_taxonomy_id: 6581
                concept_id: 4Z7F_oBG_vMG
                weight: 10
                label: Träarbetare/Snickare
        education: 
        education_level: 
    nice_to_have: 
        skills: 
        languages: 
        work_experiences: 
        education: 
                legacy_ams_taxonomy_id: 16
                concept_id: qryY_rKa_as3
                weight: 5
                label: Material och tillverkning
        education_level: 
                legacy_ams_taxonomy_id: 4
                concept_id: DeBt_ahh_bkx
                weight: 5
                label: Gymnasial utbildning
    application_contacts: 
    publication_date: 2022-07-03T21:18:55
    last_publication_date: 2022-09-03T23:59:59
    removed: false
    removed_date: null
    source_type: VIA_ANNONSERA
    timestamp: 1659661330292
    application_deadline_short: 2022-09-03
    publication_date_short: 2022-07-03
    last_publication_date_short: 2022-09-03
    logo_url_sanitized: https://swedishjobs.se/thumbnail/httpswww.arbetsformedlingen.serestarbetsgivarerestafv3arbetsplatser87789542logotyperlogo.png
    logo_url_sanitized_rescaled: https://swedishjobs.se/thumbnail/httpswww.arbetsformedlingen.serestarbetsgivarerestafv3arbetsplatser87789542logotyperlogo-rescaled.png