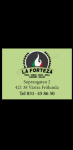 Budbilförare (pizzabud) [NB this opening has expired]
Occupation:
Budbilsförare
Employer:
La Forteza Restaurang & Pizzeria HB
Workplace location:
Göteborg
,
Västra Götalands län
,
Sverige
Last application date:
2022-11-13
Publication date:
2022-10-14
This opening in English:
Click here to read this opening in English and other languages
Presentation:
Vi är många som jobbar i restaurangen, det är viktigt att man kan anpassa sig med arbets kamraterna... Ni kommer att jobba både med grupp och ensam, både dag och kväll öppet tiderna kan varjera... tålmodig behövs.. Krav (B) körkort , kan använda GPS. Ni kommer att jobba som förare med våra bilar.. arbets dagar kan bli både helgar och vardagar. . Månads lön 23100:- helst med stöd från arbetsförmedlingen.
Record metadata
Click to view metadata

	
    id: 26667532
    external_id: null
    webpage_url: https://arbetsformedlingen.se/platsbanken/annonser/26667532
    logo_url: https://www.arbetsformedlingen.se/rest/arbetsgivare/rest/af/v3/arbetsplatser/86114030/logotyper/logo.png
    headline: Budbilförare  (pizzabud)
    application_deadline: 2022-11-13T23:59:59
    number_of_vacancies: 1
    description: 
        text: Vi är många som jobbar i restaurangen det är viktigt att man kan anpassa sig med arbets kamraterna... Ni kommer att jobba både med grupp och ensam både dag och kväll öppet tiderna kan varjera... tålmodig behövs.. Krav (B) körkort  kan använda GPS. Ni kommer att jobba som förare med våra bilar.. arbets dagar kan bli både helgar och vardagar. . Månads lön 23100:- helst med stöd från arbetsförmedlingen.
        text_formatted: <p>Vi är många som jobbar i restaurangen det är viktigt att man kan anpassa sig med arbets kamraterna... Ni kommer att jobba både med grupp och ensam både dag och kväll öppet tiderna kan varjera... tålmodig behövs.. Krav (B) körkort  kan använda GPS. Ni kommer att jobba som förare med våra bilar.. arbets dagar kan bli både helgar och vardagar. . Månads lön 23100:- helst med stöd från arbetsförmedlingen. </p>
        company_information: null
        needs: null
        requirements: null
        conditions: null
    employment_type: 
        concept_id: PFZr_Syz_cUq
        label: Vanlig anställning
        legacy_ams_taxonomy_id: 1
    salary_type: 
        concept_id: oG8G_9cW_nRf
        label: Fast månads- vecko- eller timlön
        legacy_ams_taxonomy_id: 1
    salary_description: null
    duration: 
        concept_id: qQUd_4qe_NDT
        label: 6 månader eller längre
        legacy_ams_taxonomy_id: 2
    working_hours_type: 
        concept_id: 6YE1_gAC_R2G
        label: Heltid
        legacy_ams_taxonomy_id: 1
    scope_of_work: 
        min: 100
        max: 100
    access: null
    employer: 
        phone_number: null
        email: null
        url: null
        organization_number: 9697572940
        name: La Forteza Restaurang och Pizzeria HB
        workplace: La Forteza Restaurang & Pizzeria HB
    application_details: 
        information: null
        reference: Budbilförare (pizzabud)
        email: bedar_27@hotmail.com
        via_af: false
        url: null
        other: null
    experience_required: true
    access_to_own_car: false
    driving_license_required: true
    driving_license: 
            concept_id: VTK8_WRx_GcM
            label: B
            legacy_ams_taxonomy_id: 3
    occupation: 
        concept_id: PtiU_6mm_yyL
        label: Budbilsförare
        legacy_ams_taxonomy_id: 4332
    occupation_group: 
        concept_id: P7Ay_ooF_pri
        label: Övriga bil- motorcykel- och cykelförare
        legacy_ams_taxonomy_id: 8329
    occupation_field: 
        concept_id: ASGV_zcE_bWf
        label: Transport distribution lager
        legacy_ams_taxonomy_id: 19
    workplace_address: 
        municipality: Göteborg
        municipality_code: 1480
        municipality_concept_id: PVZL_BQT_XtL
        region: Västra Götalands län
        region_code: 14
        region_concept_id: zdoY_6u5_Krt
        country: Sverige
        country_code: 199
        country_concept_id: i46j_HmG_v64
        street_address: Soprangatan 2
        postcode: 42138
        city: Västra Frölunda
        coordinates: 
            11.92060613016077041947937686927616596221923828125
            57.66511008816227246143171214498579502105712890625
    must_have: 
        skills: 
        languages: 
        work_experiences: 
        education: 
        education_level: 
    nice_to_have: 
        skills: 
        languages: 
                weight: 5
                concept_id: JxfJ_kyR_CQZ
                label: Kurdiska
                legacy_ams_taxonomy_id: 352
                weight: 5
                concept_id: zSLA_vw2_FXN
                label: Svenska
                legacy_ams_taxonomy_id: 502
                weight: 5
                concept_id: sNoC_CTL_8Ph
                label: Persiska (Farsi)
                legacy_ams_taxonomy_id: 414
                weight: 5
                concept_id: 3iEY_RGP_qXq
                label: Arabiska
                legacy_ams_taxonomy_id: 247
        work_experiences: 
                weight: 5
                concept_id: PtiU_6mm_yyL
                label: Budbilsförare
                legacy_ams_taxonomy_id: 4332
        education: 
        education_level: 
    application_contacts: 
            name: Bakhtiar  Ali
            description: null
            email: bedar_27@hotmail.com
            telephone: 0739702046
            contact_type: Pizza bud 
    publication_date: 2022-10-14T23:12:36
    last_publication_date: 2022-11-13T23:59:59
    removed: true
    removed_date: 2022-11-14T00:40:42
    source_type: VIA_ANNONSERA
    timestamp: 1665781956517
    application_deadline_short: 2022-11-13
    publication_date_short: 2022-10-14
    last_publication_date_short: 2022-11-13
    logo_url_sanitized: https://swedishjobs.se/thumbnail/httpswww.arbetsformedlingen.serestarbetsgivarerestafv3arbetsplatser86114030logotyperlogo.png
    logo_url_sanitized_rescaled: https://swedishjobs.se/thumbnail/httpswww.arbetsformedlingen.serestarbetsgivarerestafv3arbetsplatser86114030logotyperlogo-rescaled.png