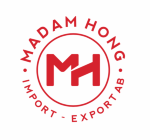 Säljare asiatiska livsmedel- thailändska [NB this opening has expired]
Occupation:
Innesäljare
Employer:
Madam Hong Import Export AB, Ledning/Logistik
Workplace location:
Huddinge
,
Stockholms län
,
Sverige
Last application date:
2022-11-14
Publication date:
2022-10-15
Prerequisites
Languages: Thailändska;
Skills: MS Office;
This opening in English: Click here to read this opening in English and other languages
Presentation:
Do you have experience in sales or interest in working with sales? Do you speak Thai? Are you interested in Asian food? Look no more, you have come to the right place!
You should be accurate, reliable and enjoy a fast-paced environment. It is good if you have experience working with computer.
We are a fast growing and family owned company that specialises in import and distribution of Asian food. We value more a good attitude than formal educational background.
Its important you have experience in working as team player.
We appreciate if you have been using pc in previous jobs.
Brinner du för asiatisk mat? Då får du möjlighet att jobba som säljare för asiatiska livsmedel- främst thailändska, kinesiska och vietnamesiska varor.
Vi söker nu efter en driven, energisk och självständig säljare. Du ska ha erfarenhet inom asiatiska livsmedel och kunna thailändska i både tal och skrift. En stor del av våra kunder är vietnamesiska/thailändska matbutiker och restauranger.
Vi är ett familjeägt grossist företag inom asiatisk livsmedel med inriktning på högkvalitativa och autentiska produkter.
Vi värderar om du har erfarenhet som teamarbetare.
Vi uppskattar om du har använt dator i tidigare anställning.
Record metadata
Click to view metadata

	
    id: 26667621
    external_id: null
    webpage_url: https://arbetsformedlingen.se/platsbanken/annonser/26667621
    logo_url: https://www.arbetsformedlingen.se/rest/arbetsgivare/rest/af/v3/arbetsplatser/87835697/logotyper/logo.png
    headline: Säljare asiatiska livsmedel- thailändska
    application_deadline: 2022-11-14T23:59:59
    number_of_vacancies: 1
    description: 
        text: Do you have experience in sales or interest in working with sales? Do you speak Thai? Are you interested in Asian food? Look no more you have come to the right place!\nYou should be accurate reliable and enjoy a fast-paced environment. It is good if you have experience working with computer.\nWe are a fast growing and family owned company that specialises in import and distribution of Asian food. We value more a good attitude than formal educational background.  \nIts important you have experience in working as team player.\nWe appreciate if you have been using pc in previous jobs.\nBrinner du för asiatisk mat? Då får du möjlighet att jobba som säljare för asiatiska livsmedel- främst thailändska kinesiska och vietnamesiska varor.\nVi söker nu efter en driven energisk och självständig säljare. Du ska ha erfarenhet inom asiatiska livsmedel och kunna thailändska i både tal och skrift. En stor del av våra kunder är vietnamesiska/thailändska matbutiker och restauranger.\nVi är ett familjeägt grossist företag inom asiatisk livsmedel med inriktning på högkvalitativa och autentiska produkter.\nVi värderar om du har erfarenhet som teamarbetare.\nVi uppskattar om du har använt dator i tidigare anställning.
        text_formatted: <p>Do you have experience in sales or interest in working with sales? Do you speak Thai? Are you interested in Asian food? Look no more you have come to the right place!</p><p>You should be accurate reliable and enjoy a fast-paced environment. It is good if you have experience working with computer.</p><p>We are a fast growing and family owned company that specialises in import and distribution of Asian food. We value more a good attitude than formal educational background.  </p><p>Its important you have experience in working as team player.</p><p>We appreciate if you have been using pc in previous jobs.</p><p>Brinner du för asiatisk mat? Då får du möjlighet att jobba som säljare för asiatiska livsmedel- främst thailändska kinesiska och vietnamesiska varor.</p><p>Vi söker nu efter en driven energisk och självständig säljare. Du ska ha erfarenhet inom asiatiska livsmedel och kunna thailändska i både tal och skrift. En stor del av våra kunder är vietnamesiska/thailändska matbutiker och restauranger.</p><p>Vi är ett familjeägt grossist företag inom asiatisk livsmedel med inriktning på högkvalitativa och autentiska produkter.</p><p>Vi värderar om du har erfarenhet som teamarbetare.</p><p>Vi uppskattar om du har använt dator i tidigare anställning.</p>
        company_information: null
        needs: null
        requirements: null
        conditions: null
    employment_type: 
        concept_id: PFZr_Syz_cUq
        label: Vanlig anställning
        legacy_ams_taxonomy_id: 1
    salary_type: 
        concept_id: oG8G_9cW_nRf
        label: Fast månads- vecko- eller timlön
        legacy_ams_taxonomy_id: 1
    salary_description: null
    duration: 
        concept_id: qQUd_4qe_NDT
        label: 6 månader eller längre
        legacy_ams_taxonomy_id: 2
    working_hours_type: 
        concept_id: 6YE1_gAC_R2G
        label: Heltid
        legacy_ams_taxonomy_id: 1
    scope_of_work: 
        min: 100
        max: 100
    access: null
    employer: 
        phone_number: null
        email: null
        url: null
        organization_number: 5566934377
        name: Madam Hong Import Export AB
        workplace: Madam Hong Import Export AB Ledning/Logistik
    application_details: 
        information: null
        reference: null
        email: flaviu@madamhong.se
        via_af: false
        url: null
        other: null
    experience_required: true
    access_to_own_car: false
    driving_license_required: false
    driving_license: null
    occupation: 
        concept_id: jsUx_ngg_Kz2
        label: Innesäljare
        legacy_ams_taxonomy_id: 2603
    occupation_group: 
        concept_id: oXSW_fbY_XrY
        label: Företagssäljare
        legacy_ams_taxonomy_id: 3322
    occupation_field: 
        concept_id: RPTn_bxG_ExZ
        label: Försäljning inköp marknadsföring
        legacy_ams_taxonomy_id: 5
    workplace_address: 
        municipality: Huddinge
        municipality_code: 0126
        municipality_concept_id: g1Gc_aXK_EKu
        region: Stockholms län
        region_code: 01
        region_concept_id: CifL_Rzy_Mku
        country: Sverige
        country_code: 199
        country_concept_id: i46j_HmG_v64
        street_address: Elektronvägen 1 
        postcode: 14149
        city: Huddinge
        coordinates: 
            17.95521031547452395216168952174484729766845703125
            59.2228183722051113591078319586813449859619140625
    must_have: 
        skills: 
                weight: 10
                concept_id: w8bU_wHe_omF
                label: MS Office
                legacy_ams_taxonomy_id: 608767
        languages: 
                weight: 10
                concept_id: ECih_Cev_hwd
                label: Thailändska
                legacy_ams_taxonomy_id: 469
        work_experiences: 
        education: 
        education_level: 
    nice_to_have: 
        skills: 
                weight: 5
                concept_id: 4yhD_tKK_dSN
                label: Pyramid redovisningssystem
                legacy_ams_taxonomy_id: 602395
        languages: 
                weight: 5
                concept_id: NVxJ_hLg_TYS
                label: Engelska
                legacy_ams_taxonomy_id: 283
        work_experiences: 
                weight: 5
                concept_id: jsUx_ngg_Kz2
                label: Innesäljare
                legacy_ams_taxonomy_id: 2603
        education: 
        education_level: 
    application_contacts: 
    publication_date: 2022-10-15T07:35:16
    last_publication_date: 2022-11-14T23:59:59
    removed: true
    removed_date: 2022-11-15T00:38:32
    source_type: VIA_ANNONSERA
    timestamp: 1665812116535
    application_deadline_short: 2022-11-14
    publication_date_short: 2022-10-15
    last_publication_date_short: 2022-11-14
    logo_url_sanitized: https://swedishjobs.se/thumbnail/httpswww.arbetsformedlingen.serestarbetsgivarerestafv3arbetsplatser87835697logotyperlogo.png
    logo_url_sanitized_rescaled: https://swedishjobs.se/thumbnail/httpswww.arbetsformedlingen.serestarbetsgivarerestafv3arbetsplatser87835697logotyperlogo-rescaled.png