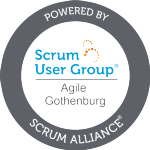 Financial Coordinator (Volunteering Opportunity)
Occupation:
Ekonomiassistent
Employer:
Agile Gothenburg
Workplace location:
Göteborg
,
Västra Götalands län
,
Sverige
Last application date:
2023-04-12
Publication date:
2022-10-15
This opening in English:
Click here to read this opening in English and other languages
Presentation:
Description
Agile Gothenburg is a nonprofit organization that provides a community for those who are interested, practicing, or passionate about Agile behaviors, concepts, frameworks, and techniques in Sweden, the Nordics, as well as globally.
The organization educates and advises on Agile mindset and practices (in leadership, human resources, project, program, portfolio, product, delivery, and service management) through the sharing of knowledge, experience, and lessons learned.
Agile Gothenburg has and continues to partner with companies and associations that promote agility around the globe.
The main activities of Agile Gothenburg are:
Hosting events (meetups, featured talks, workshops, and conferences) on Agile-related topics.
Creating and sharing experience reports that summarize the practical experience of applying an Agile practice in an industrial setting.
Educating Nordic businesses on the training programs and services offered by Agile Gothenburg partners and facilitating their onboarding.
Agile Gothenburg is looking for a financial coordinator to assist in organizing the day-to-day finances.
Responsibilities
Maintain financial documentation and records
Continuously improve our financial processes
Resolve any billing problems
Streamline the budgeting for our marketing and account operations
Set up the budget for business trips and retreats
Ensure that expenditures align with the organization's needs and objectives
Appropriate the EU funds we receive for implementing volunteering projects
Prepare financial forecasts and develop plans for financial growth
Take care of any regulatory reporting (income tax, VAT, etc)
Requirements
A degree (or pursuing a degree) in finances or similar
Strong financial, analytical, and money management skills
Comfortable with working with a virtual team
Strong communication skills
Progressive, social, and outgoing
Eager to develop in Agile management and leadership, and other specialties of Agile Gothenburg
Seen as merit
Experience in trading, investing, and the capital market.
What you get
Excellent visibility in the recruitment market
Mentorship of your training and development
The chance to explore the local, regional, and global communities of management practitioners and thought leaders
The chance to interact with and learn from the pundits in management and leadership
Free access to an excellent education platform with carefully chosen resources on an array of management subjects
Discounts on different workshops and conferences that are hosted, co-hosted, or sponsored by Agile Gothenburg
Location
Sweden, preferably Gothenburg.
Form of employment
Permanent
Scope of work
Part-time
Expected hours per month
Varies to a maximum of 8 hours.
Duration
Until further notice with 6 months probation period. You should be able to fill this role next to your full-time paid job. Please do not apply if you cannot commit for a considerable period.
Application
Send your application by email to jobs@agilegothenburg.org including "Financial Coordinator" in the subject line.
Öppen för alla
Vi fokuserar på din kompetens, inte dina övriga förutsättningar. Vi är öppna för att anpassa rollen eller arbetsplatsen efter dina behov.
Record metadata
Click to view metadata

	
    id: 26667801
    external_id: null
    webpage_url: https://arbetsformedlingen.se/platsbanken/annonser/26667801
    logo_url: https://www.arbetsformedlingen.se/rest/arbetsgivare/rest/af/v3/arbetsplatser/87212486/logotyper/logo.png
    headline: Financial Coordinator (Volunteering Opportunity)
    application_deadline: 2023-04-12T23:59:59
    number_of_vacancies: 2
    description: 
        text: Description\nAgile Gothenburg is a nonprofit organization that provides a community for those who are interested practicing or passionate about Agile behaviors concepts frameworks and techniques in Sweden the Nordics as well as globally.\nThe organization educates and advises on Agile mindset and practices (in leadership human resources project program portfolio product delivery and service management) through the sharing of knowledge experience and lessons learned.\nAgile Gothenburg has and continues to partner with companies and associations that promote agility around the globe.\nThe main activities of Agile Gothenburg are:\nHosting events (meetups featured talks workshops and conferences) on Agile-related topics.\nCreating and sharing experience reports that summarize the practical experience of applying an Agile practice in an industrial setting.\nEducating Nordic businesses on the training programs and services offered by Agile Gothenburg partners and facilitating their onboarding.\n\nAgile Gothenburg is looking for a financial coordinator to assist in organizing the day-to-day finances.\nResponsibilities\nMaintain financial documentation and records\nContinuously improve our financial processes\nResolve any billing problems\nStreamline the budgeting for our marketing and account operations\nSet up the budget for business trips and retreats\nEnsure that expenditures align with the organization's needs and objectives\nAppropriate the EU funds we receive for implementing volunteering projects\nPrepare financial forecasts and develop plans for financial growth\nTake care of any regulatory reporting (income tax VAT etc)\n\nRequirements\nA degree (or pursuing a degree) in finances or similar\nStrong financial analytical and money management skills\nComfortable with working with a virtual team\nStrong communication skills\nProgressive social and outgoing\nEager to develop in Agile management and leadership and other specialties of Agile Gothenburg\n\nSeen as merit\nExperience in trading investing and the capital market.\nWhat you get\nExcellent visibility in the recruitment market\nMentorship of your training and development\nThe chance to explore the local regional and global communities of management practitioners and thought leaders\nThe chance to interact with and learn from the pundits in management and leadership\nFree access to an excellent education platform with carefully chosen resources on an array of management subjects\nDiscounts on different workshops and conferences that are hosted co-hosted or sponsored by Agile Gothenburg\n\nLocation\nSweden preferably Gothenburg.\nForm of employment\nPermanent\nScope of work\nPart-time\nExpected hours per month\nVaries to a maximum of 8 hours.\nDuration\nUntil further notice with 6 months probation period. You should be able to fill this role next to your full-time paid job. Please do not apply if you cannot commit for a considerable period.\nApplication\nSend your application by email to jobs@agilegothenburg.org including "Financial Coordinator" in the subject line.\nÖppen för alla\nVi fokuserar på din kompetens inte dina övriga förutsättningar. Vi är öppna för att anpassa rollen eller arbetsplatsen efter dina behov.
        text_formatted: <p><strong>Description</strong></p><p>Agile Gothenburg is a nonprofit organization that provides a community for those who are interested practicing or passionate about Agile behaviors concepts frameworks and techniques in Sweden the Nordics as well as globally.</p><p>The organization educates and advises on Agile mindset and practices (in leadership human resources project program portfolio product delivery and service management) through the sharing of knowledge experience and lessons learned.</p><p>Agile Gothenburg has and continues to partner with companies and associations that promote agility around the globe.</p><p>The main activities of Agile Gothenburg are:</p><ul><li>Hosting events (meetups featured talks workshops and conferences) on Agile-related topics.</li><li>Creating and sharing experience reports that summarize the practical experience of applying an Agile practice in an industrial setting.</li><li>Educating Nordic businesses on the training programs and services offered by Agile Gothenburg partners and facilitating their onboarding.</li></ul><p>Agile Gothenburg is looking for a financial coordinator to assist in organizing the day-to-day finances.</p><p><strong>Responsibilities</strong></p><ul><li>Maintain financial documentation and records</li><li>Continuously improve our financial processes</li><li>Resolve any billing problems</li><li>Streamline the budgeting for our marketing and account operations</li><li>Set up the budget for business trips and retreats</li><li>Ensure that expenditures align with the organization's needs and objectives</li><li>Appropriate the EU funds we receive for implementing volunteering projects</li><li>Prepare financial forecasts and develop plans for financial growth</li><li>Take care of any regulatory reporting (income tax VAT etc)</li></ul><p><strong>Requirements</strong></p><ul><li>A degree (or pursuing a degree) in finances or similar</li><li>Strong financial analytical and money management skills</li><li>Comfortable with working with a virtual team</li><li>Strong communication skills</li><li>Progressive social and outgoing</li><li>Eager to develop in Agile management and leadership and other specialties of Agile Gothenburg</li></ul><p><strong>Seen as merit</strong></p><p>Experience in trading investing and the capital market.</p><p><strong>What you get</strong></p><ul><li>Excellent visibility in the recruitment market</li><li>Mentorship of your training and development</li><li>The chance to explore the local regional and global communities of management practitioners and thought leaders</li><li>The chance to interact with and learn from the pundits in management and leadership</li><li>Free access to an excellent education platform with carefully chosen resources on an array of management subjects</li><li>Discounts on different workshops and conferences that are hosted co-hosted or sponsored by Agile Gothenburg</li></ul><p><strong>Location</strong></p><p>Sweden preferably Gothenburg.</p><p><strong>Form of employment</strong></p><p>Permanent</p><p><strong>Scope of work</strong></p><p>Part-time</p><p><strong>Expected hours per month</strong></p><p>Varies to a maximum of 8 hours.</p><p><strong>Duration</strong></p><p>Until further notice with 6 months probation period. You should be able to fill this role next to your full-time paid job. Please do not apply if you cannot commit for a considerable period.</p><p><strong>Application</strong></p><p>Send your application by email to jobs@agilegothenburg.org including "Financial Coordinator" in the subject line.</p><p id=\oppenforalla\>Öppen för alla\nVi fokuserar på din kompetens inte dina övriga förutsättningar. Vi är öppna för att anpassa rollen eller arbetsplatsen efter dina behov.</p>
        company_information: null
        needs: null
        requirements: null
        conditions: null
    employment_type: 
        concept_id: PFZr_Syz_cUq
        label: Vanlig anställning
        legacy_ams_taxonomy_id: 1
    salary_type: 
        concept_id: vVtj_qm6_GQu
        label: Rörlig ackords- eller provisionslön
        legacy_ams_taxonomy_id: 8
    salary_description: null
    duration: 
        concept_id: a7uU_j21_mkL
        label: Tills vidare
        legacy_ams_taxonomy_id: 1
    working_hours_type: 
        concept_id: 947z_JGS_Uk2
        label: Deltid
        legacy_ams_taxonomy_id: 2
    scope_of_work: 
        min: 0
        max: 100
    access: null
    employer: 
        phone_number: null
        email: null
        url: http://agilegothenburg.org
        organization_number: 8025176309
        name: AGILE GOTHENBURG
        workplace: Agile Gothenburg
    application_details: 
        information: null
        reference: Financial Coordinator
        email: jobs@agilegothenburg.org
        via_af: false
        url: null
        other: null
    experience_required: true
    access_to_own_car: false
    driving_license_required: false
    driving_license: null
    occupation: 
        concept_id: BK8D_hZe_dtk
        label: Ekonomiassistent
        legacy_ams_taxonomy_id: 6024
    occupation_group: 
        concept_id: ij8k_EwC_zyB
        label: Ekonomiassistenter m.fl.
        legacy_ams_taxonomy_id: 4111
    occupation_field: 
        concept_id: X82t_awd_Qyc
        label: Administration ekonomi juridik
        legacy_ams_taxonomy_id: 1
    workplace_address: 
        municipality: Göteborg
        municipality_code: 1480
        municipality_concept_id: PVZL_BQT_XtL
        region: Västra Götalands län
        region_code: 14
        region_concept_id: zdoY_6u5_Krt
        country: Sverige
        country_code: 199
        country_concept_id: i46j_HmG_v64
        street_address: null
        postcode: null
        city: null
        coordinates: 
            null
            null
    must_have: 
        skills: 
        languages: 
        work_experiences: 
        education: 
        education_level: 
    nice_to_have: 
        skills: 
        languages: 
        work_experiences: 
        education: 
        education_level: 
    application_contacts: 
    publication_date: 2022-10-15T14:20:21
    last_publication_date: 2023-04-12T23:59:59
    removed: false
    removed_date: null
    source_type: VIA_ANNONSERA
    timestamp: 1668987134101
    application_deadline_short: 2023-04-12
    publication_date_short: 2022-10-15
    last_publication_date_short: 2023-04-12
    logo_url_sanitized: https://swedishjobs.se/thumbnail/httpswww.arbetsformedlingen.serestarbetsgivarerestafv3arbetsplatser87212486logotyperlogo.png
    logo_url_sanitized_rescaled: https://swedishjobs.se/thumbnail/httpswww.arbetsformedlingen.serestarbetsgivarerestafv3arbetsplatser87212486logotyperlogo-rescaled.png