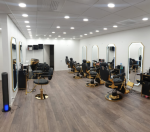 Vi söker dam frisör [NB this opening has expired]
Occupation:
Damfrisör
Employer:
Uppsala Moderna Style Frisör AB
Workplace location:
Uppsala
,
Uppsala län
,
Sverige
Last application date:
2022-11-14
Publication date:
2022-10-15
Prerequisites
Work experiences: Damfrisör;
This opening in English: Click here to read this opening in English and other languages
Presentation:
Hej, vi söker en damfrisör, samt ska kunna behandlingar, permanent, slingor ,färgning, tjänsten gäller heltid.
Öppen för alla
Vi fokuserar på din kompetens, inte dina övriga förutsättningar. Vi är öppna för att anpassa rollen eller arbetsplatsen efter dina behov.
Record metadata
Click to view metadata

	
    id: 26667826
    external_id: null
    webpage_url: https://arbetsformedlingen.se/platsbanken/annonser/26667826
    logo_url: https://www.arbetsformedlingen.se/rest/arbetsgivare/rest/af/v3/arbetsplatser/87985089/logotyper/logo.png
    headline: Vi söker dam frisör 
    application_deadline: 2022-11-14T23:59:59
    number_of_vacancies: 2
    description: 
        text: Hej vi söker en damfrisör samt ska kunna behandlingar permanent slingor färgning tjänsten gäller heltid.\nÖppen för alla\nVi fokuserar på din kompetens inte dina övriga förutsättningar. Vi är öppna för att anpassa rollen eller arbetsplatsen efter dina behov.
        text_formatted: <p>Hej vi söker en damfrisör samt ska kunna behandlingar permanent slingor färgning tjänsten gäller heltid.</p><p id=\oppenforalla\>Öppen för alla\nVi fokuserar på din kompetens inte dina övriga förutsättningar. Vi är öppna för att anpassa rollen eller arbetsplatsen efter dina behov.</p>
        company_information: null
        needs: null
        requirements: null
        conditions: null
    employment_type: 
        concept_id: PFZr_Syz_cUq
        label: Vanlig anställning
        legacy_ams_taxonomy_id: 1
    salary_type: 
        concept_id: oG8G_9cW_nRf
        label: Fast månads- vecko- eller timlön
        legacy_ams_taxonomy_id: 1
    salary_description: null
    duration: 
        concept_id: a7uU_j21_mkL
        label: Tills vidare
        legacy_ams_taxonomy_id: 1
    working_hours_type: 
        concept_id: 6YE1_gAC_R2G
        label: Heltid
        legacy_ams_taxonomy_id: 1
    scope_of_work: 
        min: 100
        max: 100
    access: null
    employer: 
        phone_number: null
        email: null
        url: https://www.bokadirekt.se/places/moderna-style--37922#photos
        organization_number: 5592641160
        name: Uppsala Moderna Style Frisör AB
        workplace: Uppsala Moderna Style Frisör AB
    application_details: 
        information: null
        reference: null
        email: info@upplandsmiljo.se
        via_af: false
        url: null
        other: null
    experience_required: true
    access_to_own_car: false
    driving_license_required: false
    driving_license: null
    occupation: 
        concept_id: M9CN_jxU_54j
        label: Damfrisör
        legacy_ams_taxonomy_id: 240
    occupation_group: 
        concept_id: LyBp_bY6_bZK
        label: Frisörer
        legacy_ams_taxonomy_id: 5141
    occupation_field: 
        concept_id: Uuf1_GMh_Uvw
        label: Kropps- och skönhetsvård
        legacy_ams_taxonomy_id: 4
    workplace_address: 
        municipality: Uppsala
        municipality_code: 0380
        municipality_concept_id: otaF_bQY_4ZD
        region: Uppsala län
        region_code: 03
        region_concept_id: zBon_eET_fFU
        country: Sverige
        country_code: 199
        country_concept_id: i46j_HmG_v64
        street_address: Sparrisgatan 7 A
        postcode: 75446
        city: Uppsala
        coordinates: 
            17.6851334860574667118271463550627231597900390625
            59.865962779340037513975403271615505218505859375
    must_have: 
        skills: 
        languages: 
        work_experiences: 
                legacy_ams_taxonomy_id: 240
                concept_id: M9CN_jxU_54j
                weight: 10
                label: Damfrisör
        education: 
        education_level: 
    nice_to_have: 
        skills: 
        languages: 
                legacy_ams_taxonomy_id: 502
                concept_id: zSLA_vw2_FXN
                weight: 5
                label: Svenska
        work_experiences: 
        education: 
        education_level: 
    application_contacts: 
    publication_date: 2022-10-15T16:41:16
    last_publication_date: 2022-11-14T23:59:59
    removed: true
    removed_date: 2022-11-15T00:37:51
    source_type: VIA_ANNONSERA
    timestamp: 1665844876527
    application_deadline_short: 2022-11-14
    publication_date_short: 2022-10-15
    last_publication_date_short: 2022-11-14
    logo_url_sanitized_rescaled: https://swedishjobs.se/thumbnail/httpswww.arbetsformedlingen.serestarbetsgivarerestafv3arbetsplatser87985089logotyperlogo-rescaled.png
    logo_url_sanitized: https://swedishjobs.se/thumbnail/httpswww.arbetsformedlingen.serestarbetsgivarerestafv3arbetsplatser87985089logotyperlogo.png