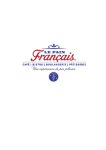 Servering [NB this opening has expired]
Occupation:
Servitör/Servitris
Employer:
Le Pain Francais Brasserie AB
Workplace location:
Göteborg
,
Västra Götalands län
,
Sverige
Last application date:
2022-11-14
Publication date:
2022-10-15
This opening in English:
Click here to read this opening in English and other languages
Presentation:
Vi söker dig som är motiverad och gillar att jobba i team.
Du har arbetat med servering under minst ett år och har mat- och dryckeskunskaper. Vi ser gärna att du är service sinnad, positiv och försäljningsinriktad.
Vi är en expansiv organisation där du som sökande har stora möjligheter att utvecklas samt avancera.
Läs mer om företaget på www.lepainfrancais.se
Öppen för alla
Vi fokuserar på din kompetens, inte dina övriga förutsättningar. Vi är öppna för att anpassa rollen eller arbetsplatsen efter dina behov.
Record metadata
Click to view metadata

	
    id: 26667833
    external_id: null
    webpage_url: https://arbetsformedlingen.se/platsbanken/annonser/26667833
    logo_url: https://www.arbetsformedlingen.se/rest/arbetsgivare/rest/af/v3/arbetsplatser/87053970/logotyper/logo.png
    headline: Servering 
    application_deadline: 2022-11-14T23:59:59
    number_of_vacancies: 10
    description: 
        text: Vi söker dig som är motiverad och gillar att jobba i team. \n\nDu har arbetat med servering under minst ett år och har mat- och dryckeskunskaper. Vi ser gärna att du är service sinnad positiv och försäljningsinriktad.\n\nVi är en expansiv organisation där du som sökande har stora möjligheter att utvecklas samt avancera. \n\nLäs mer om företaget på www.lepainfrancais.se\nÖppen för alla\nVi fokuserar på din kompetens inte dina övriga förutsättningar. Vi är öppna för att anpassa rollen eller arbetsplatsen efter dina behov.
        text_formatted: Vi söker dig som är motiverad och gillar att jobba i team. <br><br>Du har arbetat med servering under minst ett år och har mat- och dryckeskunskaper. Vi ser gärna att du är service sinnad positiv och försäljningsinriktad.<br><br>Vi är en expansiv organisation där du som sökande har stora möjligheter att utvecklas samt avancera. <br><br>Läs mer om företaget på www.lepainfrancais.se<p id=\oppenforalla\>Öppen för alla\nVi fokuserar på din kompetens inte dina övriga förutsättningar. Vi är öppna för att anpassa rollen eller arbetsplatsen efter dina behov.</p>
        company_information: null
        needs: null
        requirements: null
        conditions: null
    employment_type: 
        concept_id: 1paU_aCR_nGn
        label: Behovsanställning
        legacy_ams_taxonomy_id: 4
    salary_type: 
        concept_id: oG8G_9cW_nRf
        label: Fast månads- vecko- eller timlön
        legacy_ams_taxonomy_id: 1
    salary_description: null
    duration: 
        concept_id: null
        label: null
        legacy_ams_taxonomy_id: null
    working_hours_type: 
        concept_id: null
        label: null
        legacy_ams_taxonomy_id: null
    scope_of_work: 
        min: null
        max: null
    access: null
    employer: 
        phone_number: null
        email: null
        url: www.lepainfrancais.se
        organization_number: 5568929466
        name: Le Pain Francais Brasserie AB
        workplace: Le Pain Francais Brasserie AB
    application_details: 
        information: null
        reference: Servering
        email: jobb@lepainfrancais.se
        via_af: false
        url: http://www.lepainfrancais.se
        other: null
    experience_required: true
    access_to_own_car: false
    driving_license_required: false
    driving_license: null
    occupation: 
        concept_id: rGGf_KLs_To7
        label: Servitör/Servitris
        legacy_ams_taxonomy_id: 5487
    occupation_group: 
        concept_id: UjoW_meY_Zwt
        label: Hovmästare och servitörer
        legacy_ams_taxonomy_id: 5131
    occupation_field: 
        concept_id: ScKy_FHB_7wT
        label: Hotell restaurang storhushåll
        legacy_ams_taxonomy_id: 7
    workplace_address: 
        municipality: Göteborg
        municipality_code: 1480
        municipality_concept_id: PVZL_BQT_XtL
        region: Västra Götalands län
        region_code: 14
        region_concept_id: zdoY_6u5_Krt
        country: Sverige
        country_code: 199
        country_concept_id: i46j_HmG_v64
        street_address: Östra Larmgatan 20
        postcode: 41106
        city: Göteborg
        coordinates: 
            11.9729694010772949042120671947486698627471923828125
            57.7062095553368408218375407159328460693359375
    must_have: 
        skills: 
        languages: 
        work_experiences: 
        education: 
        education_level: 
    nice_to_have: 
        skills: 
        languages: 
        work_experiences: 
                weight: 5
                concept_id: rGGf_KLs_To7
                label: Servitör/Servitris
                legacy_ams_taxonomy_id: 5487
        education: 
        education_level: 
    application_contacts: 
    publication_date: 2022-10-15T17:12:41
    last_publication_date: 2022-11-14T23:59:59
    removed: true
    removed_date: 2022-11-15T00:39:11
    source_type: VIA_ANNONSERA
    timestamp: 1665846761522
    application_deadline_short: 2022-11-14
    publication_date_short: 2022-10-15
    last_publication_date_short: 2022-11-14
    logo_url_sanitized: https://swedishjobs.se/thumbnail/httpswww.arbetsformedlingen.serestarbetsgivarerestafv3arbetsplatser87053970logotyperlogo.png
    logo_url_sanitized_rescaled: https://swedishjobs.se/thumbnail/httpswww.arbetsformedlingen.serestarbetsgivarerestafv3arbetsplatser87053970logotyperlogo-rescaled.png