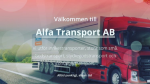 Lastbilsförare [NB this opening has expired]
Occupation:
Fjärrbilsförare
Employer:
Alfa Transport AB
Workplace location:
Göteborg
,
Västra Götalands län
,
Sverige
Last application date:
2022-11-15
Publication date:
2022-10-16
Prerequisites
Skills: Yrkeskompetensbevis YKB, tung lastbil;
This opening in English: Click here to read this opening in English and other languages
Presentation:
Nu söker vi 1 extra förare som ska kunna hoppa in vid extra behov. Det blir vissa dagar natten, vissa dagar dagtiden. Det finns goda chanser att det blir en fast jobb. Vi kör för Postnord, DHL.
Märk din ansökan med CE.
För att bli aktuell krävs CE-körkort, YKB.
Maila din ansökan till:
jobb.alfa.transport.ab@gmail.com
Öppen för alla
Vi fokuserar på din kompetens, inte dina övriga förutsättningar. Vi är öppna för att anpassa rollen eller arbetsplatsen efter dina behov.
Record metadata
Click to view metadata

	
    id: 26667976
    external_id: null
    webpage_url: https://arbetsformedlingen.se/platsbanken/annonser/26667976
    logo_url: https://www.arbetsformedlingen.se/rest/arbetsgivare/rest/af/v3/arbetsplatser/87360268/logotyper/logo.png
    headline: Lastbilsförare
    application_deadline: 2022-11-15T23:59:59
    number_of_vacancies: 1
    description: 
        text: Nu söker vi 1 extra förare som ska kunna hoppa in vid extra behov. Det blir vissa dagar natten vissa dagar dagtiden. Det finns goda chanser att det blir en fast jobb.  Vi kör för Postnord DHL.\nMärk din ansökan med CE.\nFör att bli aktuell krävs CE-körkort YKB.\nMaila din ansökan till:\njobb.alfa.transport.ab@gmail.com\nÖppen för alla\nVi fokuserar på din kompetens inte dina övriga förutsättningar. Vi är öppna för att anpassa rollen eller arbetsplatsen efter dina behov.
        text_formatted: <p>Nu söker vi 1 extra förare som ska kunna hoppa in vid extra behov. Det blir vissa dagar natten vissa dagar dagtiden. Det finns goda chanser att det blir en fast jobb.  Vi kör för Postnord DHL.</p><p>Märk din ansökan med CE.</p><p>För att bli aktuell krävs CE-körkort YKB.</p><p>Maila din ansökan till:</p><p>jobb.alfa.transport.ab@gmail.com</p><p id=\oppenforalla\>Öppen för alla\nVi fokuserar på din kompetens inte dina övriga förutsättningar. Vi är öppna för att anpassa rollen eller arbetsplatsen efter dina behov.</p>
        company_information: null
        needs: null
        requirements: null
        conditions: null
    employment_type: 
        concept_id: 1paU_aCR_nGn
        label: Behovsanställning
        legacy_ams_taxonomy_id: 4
    salary_type: 
        concept_id: oG8G_9cW_nRf
        label: Fast månads- vecko- eller timlön
        legacy_ams_taxonomy_id: 1
    salary_description: null
    duration: 
        concept_id: null
        label: null
        legacy_ams_taxonomy_id: null
    working_hours_type: 
        concept_id: null
        label: null
        legacy_ams_taxonomy_id: null
    scope_of_work: 
        min: null
        max: null
    access: null
    employer: 
        phone_number: null
        email: null
        url: http://www.alfatransport.se
        organization_number: 5591729875
        name: Alfa Transport AB
        workplace: Alfa Transport AB
    application_details: 
        information: null
        reference: null
        email: jobb.alfa.transport.ab@gmail.com
        via_af: false
        url: http://www.alfatransport.se
        other: null
    experience_required: true
    access_to_own_car: false
    driving_license_required: true
    driving_license: 
            legacy_ams_taxonomy_id: 7
            concept_id: zZu8_iZ9_wMH
            label: CE
    occupation: 
        concept_id: BNz8_F9J_y2L
        label: Fjärrbilsförare
        legacy_ams_taxonomy_id: 6704
    occupation_group: 
        concept_id: 3MBw_pDA_P2F
        label: Lastbilsförare m.fl.
        legacy_ams_taxonomy_id: 8332
    occupation_field: 
        concept_id: ASGV_zcE_bWf
        label: Transport distribution lager
        legacy_ams_taxonomy_id: 19
    workplace_address: 
        municipality: Göteborg
        municipality_code: 1480
        municipality_concept_id: PVZL_BQT_XtL
        region: Västra Götalands län
        region_code: 14
        region_concept_id: zdoY_6u5_Krt
        country: Sverige
        country_code: 199
        country_concept_id: i46j_HmG_v64
        street_address: Exportgatan 16
        postcode: 42246
        city: HISINGS BACKA
        coordinates: 
            11.990577554900756496181202237494289875030517578125
            57.7391134374603751666654716245830059051513671875
    must_have: 
        skills: 
                legacy_ams_taxonomy_id: 608689
                concept_id: M2WG_2z8_tyy
                weight: 10
                label: Yrkeskompetensbevis YKB tung lastbil
        languages: 
        work_experiences: 
        education: 
        education_level: 
    nice_to_have: 
        skills: 
        languages: 
                legacy_ams_taxonomy_id: 502
                concept_id: zSLA_vw2_FXN
                weight: 5
                label: Svenska
                legacy_ams_taxonomy_id: 283
                concept_id: NVxJ_hLg_TYS
                weight: 5
                label: Engelska
        work_experiences: 
        education: 
        education_level: 
    application_contacts: 
    publication_date: 2022-10-16T10:35:56
    last_publication_date: 2022-11-15T23:59:59
    removed: true
    removed_date: 2023-02-14T00:59:35
    source_type: VIA_ANNONSERA
    timestamp: 1665909356616
    application_deadline_short: 2022-11-15
    publication_date_short: 2022-10-16
    last_publication_date_short: 2022-11-15
    logo_url_sanitized_rescaled: https://swedishjobs.se/thumbnail/httpswww.arbetsformedlingen.serestarbetsgivarerestafv3arbetsplatser87360268logotyperlogo-rescaled.png
    logo_url_sanitized: https://swedishjobs.se/thumbnail/httpswww.arbetsformedlingen.serestarbetsgivarerestafv3arbetsplatser87360268logotyperlogo.png